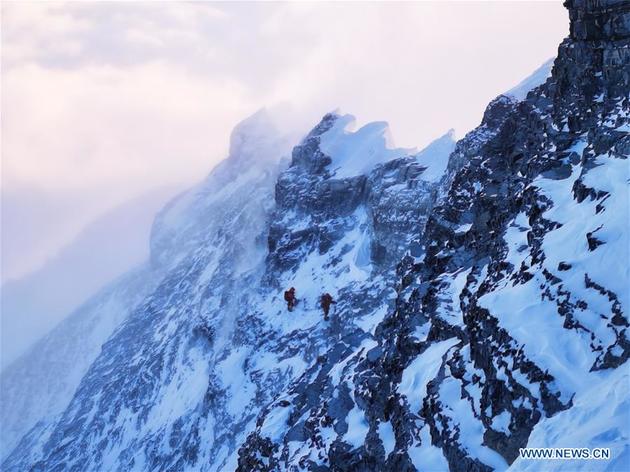 Photo/Tashi Tsering (Xinhua)
A Chinese survey team on Wednesday reached the summit of Mount Qomolangma to remeasure the height of the world's highest peak. Why is Mount Qomolangma often measured in May?
Straddling the China-Nepal border, Mount Qomolangma is buffeted by high winds from October to March and April, and affected by the Indian monsoon, its rainy season lasts from June to September, so by contrast, the weather in May is the most stable and suitable for climbing.
The measurement of Mount Qomolangma requires traditional and modern surveying and mapping technologies such as GNSS satellite survey, precision leveling, geodimeter, snow depth radar survey, gravity survey, astronomical survey and satellite remote sensing.
With the measurement data, scientists will use multiple traditional and modern measurement techniques to perform comprehensive calculations, and further carry out theoretical studies and repeated verifications to determine the accurate height of Mount Qomolangma, which will probably take two to three months to calculate and release, according to China's Ministry of Natural Resources.
Since the founding of the People's Republic of China in 1949, Chinese surveyors had previously conducted six rounds of scaled measurement and scientific research on Mount Qomolangma and released two height measurements for the peak, with 8,848.13 meters in 1975 and 8,844.43 meters in 2005.
Email: gaohan@nbd.com.cn
Editor: Gao Han